Our Curriculum
At P.S Chidambara Nadar Senior English School, we offer a broad and balanced curriculum approved by the Central Board of Secondary Education, within the framework of the National Council of Educational Research and Training.
The curriculum endeavours to develop the student thoroughly, strengthening the mind and building strong character. Students are expected to take an active role in their learning and be disciplined to set and hold themselves to high standards of achievement. As a school committed to academic excellence, PSC maintains a rigorous course load that aims to produce competent, confident and analytical thinkers. The first to Fifth Std. Curriculum is activity-based.
Curriculum for Kinder Garden
The tiny Chidambarettes are inspired through our innovative teaching methods. Learning is a game for them. Drawing is given importance to enhance their capability for visualization in the growing years and also to allow the buds of creativity to blossom. Montessori techniques are followed by trained staff. The Activity Room, furnished with Montessori Materials satisfies the needs of the exhilarated participants. So that all round growth is ensured. Education is a delight in PSC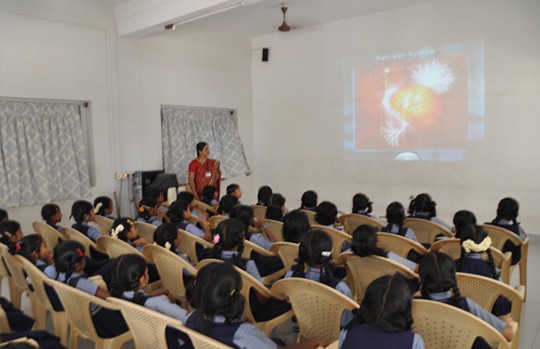 Curriculum for Primary (I & II)
The strong foundation necessary for the Primary chidambarettes for their formative years is laid in I and II. The LSRW skills are introduced to develop proficiency in English. Love for the subjects is instilled in them by various methods. Making models, charts and enacting the lessons help them to develop their individual talents. The Multimedia Room is a room of wonder and discovery for the students. The library with selected books is put to use in the library hour. This gives them new thought processes, association and imagination. We can say that the seeds of God (our Chidambarettes) have sprouted into saplings to grow into tomorrow's trees.
Core Subject Curriculum (From Std III to X)
Language I English
Language II Tamil
Language III Hindi
Mathematics
Science
Social Science