Secretary's Message
Rm. P. T. R. Thanikodi B.Sc.
An outstanding experience in education is the greatest gift that we can give our children who will be the leaders of future India. We have been blessed with this gift from our ancestors. We are therefore greatly indebted to our forefathers who had the vision to provide the best education possible for every child in our community.
As the world is rapidly changing we need to ensure that all of our children go out into the globally competitive world with the skills, knowledge and creativity for twenty – first century living. Learning should be for life rather than exams. This school is committed on ensuring that all our children receive the excellent education that they require for life.
I take on the responsibility as Secretary of this great institution with the blessing of our forefathers and will strive to continue to fulfill my duties with great dedication as my predecessors.
Principal's Message
P.Shanthi M.Sc., M.Ed.,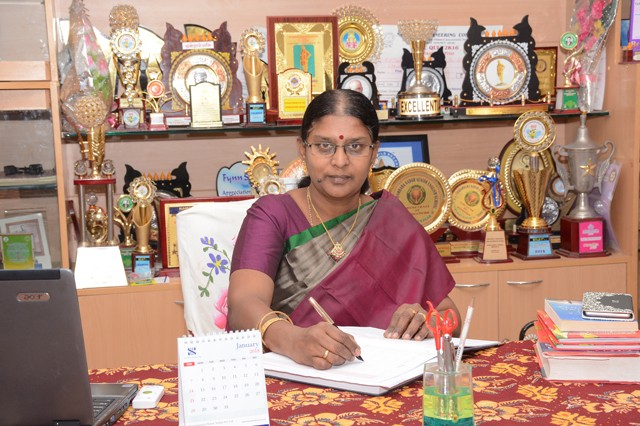 I am greatly privileged to be the principal of an outstanding renowned CBSE School (PSC School) in the Birth place of Noble leader Thiru K. Kamaraj and consider myself lucky to render my dedicated service amidst the triumphant team of Magnanimous Management, dedicated staff and meticulous students who strive, together and come up with brilliant record in every field.
PSC School always aims at the holistic development of each and every student. Imparting knowledge is not its sole motto but it takes earnest steps to bring up the student physically fit, socially adjustable, emotionally stable and mentally balanced so that she could emerge as the successful personality to suit the current needs of the society. From the very inception of the school, the management is keen in giving greater emphasis on the qualitative aspect of value based Education and dexterously designs the infrastructure to suit the current needs. The curriculum and the innovative teaching methodology is always in tune with the global trends undoubtedly PSC School always paves the smooth path to the pinnacle of glory and carves an enviable niche in the field of Education. It stones as an exemplary full fledged institution to the newly springing up schools and aptly suits to the famous. Quote of Rabindranath Tagore, the noble laureate.
"The highest Education is that which does not merely give us information but makes our life in harmony with all existence"
Parent Login
New User?
Unable to Sign In?