Secretary's Message
Thiru N. Anandavel B.E.,
I am delighted to inform that Our Esteemed Institution has been cradled and nurtured with utmost care by our Management nearly for four decades. It has evolved by leaps and bounds and emerged as one of the best Educational Institutions for girls, the centre of attraction in our Home Town.
Our School has set the highest standards of Academic Achievement, intellectual growth, ethical awareness and behavior, sportsmanship. Apart from academic ventures, a variety of Co-curricular activities are also conducted in order to enable them to meet the growing and challenging needs of the future citizens.
Management has taken strenuous efforts in constantly upgrading the school infrastructure by providing Hi-tech facilities, the need of the hour to the students. Our school plays a leading role in imparting Discipline and Decorum among the students, by inculcating good habits and teaching etiquettes.
The Psc's Alumini has made us proud by bringing laurels to their Alma Mater as they are well established in their various occupations both in India and abroad. It is my ardent wish that many IAS officers should emerge from this esteemed institution and spread its name and fame far and wide
May God Almighty bless the school to reach its peak of Excellence in all its endeavors in the ensuing years?!
Principal's Message
P.Shanthi M.Sc., M.Ed.,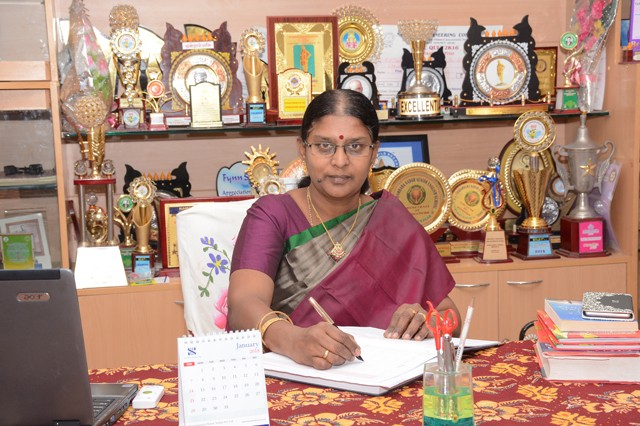 I am greatly privileged to be the principal of an outstanding renowned CBSE School (PSC School) in the Birth place of Noble leader Thiru K. Kamaraj and consider myself lucky to render my dedicated service amidst the triumphant team of Magnanimous Management, dedicated staff and meticulous students who strive, together and come up with brilliant record in every field.
PSC School always aims at the holistic development of each and every student. Imparting knowledge is not its sole motto but it takes earnest steps to bring up the student physically fit, socially adjustable, emotionally stable and mentally balanced so that she could emerge as the successful personality to suit the current needs of the society. From the very inception of the school, the management is keen in giving greater emphasis on the qualitative aspect of value based Education and dexterously designs the infrastructure to suit the current needs. The curriculum and the innovative teaching methodology is always in tune with the global trends undoubtedly PSC School always paves the smooth path to the pinnacle of glory and carves an enviable niche in the field of Education. It stones as an exemplary full fledged institution to the newly springing up schools and aptly suits to the famous. Quote of Rabindranath Tagore, the noble laureate.
"The highest Education is that which does not merely give us information but makes our life in harmony with all existence"
Our Mission
To expose the curriculum with the amalgamation of digitalisation and technical creativity by enforcing discipline and moral values with sound vision.
Parent Login
New User?
Unable to Sign In?